Titanic's First Class Dinner Menu
As served on the Titanic Saturday, April 14th, 1912
First Course ~ Hors d'Oeuvre
Poached Salmon With Mousseline Sauce
Fourth Course ~ 1st Entree
Fifth Course ~ 2nd Entree
Calvados~Glazed Roast Duck with Applesauce
Roast Sirloin of Beef Forestiere
Minted Green Pea Timbales
Roast Squab & Wilted Cress
Asparagus Salad with Champagne Saffron Vinaigrette
Peaches in Chartreuse Jelly
Chocolate Painted Eclairs with French Vanilla Cream
Eleventh Course ~ Dessert
Assorted Fresh Fruits and Cheeses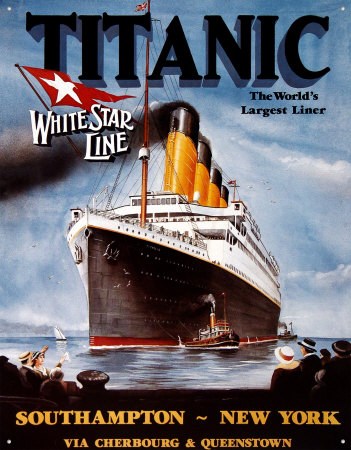 Oysters a la Russe
2 tablespoons vodka
1/2 teaspoon lemon juice
1/4 teaspoon prepared horseradish (I added a little more)
Dash hot pepper sauce
Pinch salt
Pinch sugar
1 plum tomato, seeded and finely chopped
1 tablespoon chives, finely chopped
12 large oysters
Coarsely cracked black peppercorns
Directions:
1. In bowl, stir together vodka, lemon juice, horseradish, hot pepper sauce, sugar, salt.
2. Gently stir in tomato and chives.
3. Wash oysters under running water to remove any loose barnacles or sand. Insert tip of oyster shucker between shell halves near hinges; twist upward to open shell. Discard top shell, Using blade of shucker, sever connective membrane that holds oyster to bottom shell. Place open oysters on bed of shaved or crushed ice.
4. Spoon vodka relish over each oyster; dusting with cracked pepper.
Cream of Barley Soup
1 tablespoon vegetable oil
1/4 cup salt pork or bacon, finely chopped
2 carrots, finely chopped
2 onions, finely chopped
3 cloves garlic, minced
1 bay leaf
1 tablespoon parsley stems, chopped
1/4 teaspoon peppercorns
1 cup pearl barley
7 cups beef stock
1 cup whipping cream
2 tablespoons whiskey
1 tablespoon red wine vinegar
Salt and pepper
Directions:
1. In large pot, heat oil over medium heat, add salt pork and cook, stirring often, for two minutes. Stir in carrots, onions and garlic; cover and cook, stirring occasionally, for 10 minutes or until vegetables are very soft.
2. Meanwhile, wrap bay leaf, parsley stems and peppercorns in cheesecloth, fold over and tie to make bouquet garni. Stir barley into vegetable mixture, cook, stirring, for about 45 seconds. Pour in stock and add bouquet garni.
3. Bring to boil. Reduce heat to low and simmer, covered, for 40 to 45 minutes or until barley is tender. Remove from heat; in blender or food processor, puree soup in batches until almost smooth but still a little chunky. Transfer to clean pot, cook over medium heat until steaming. Whisk in cream, whiskey and vinegar.
4. Season with salt and pepper to taste. Do not boil.
Minted Pea Timbales
Ingredients:
1 tablespoon salt
4 cups peas, fresh or frozen (thawed)
2 1/2 tablespoons chopped fresh mint
1/4 teaspoon granulated sugar
1/4 teaspoon pepper
3 egg whites
1/3 cup whipping cream
Fresh mint sprigs
Sour cream or crème fraíche
Directions:
1. In large saucepan of boiling water, dissolve all but 1/4 teaspoon of the salt. Add peas and blanch for 2 minutes. Drain and rinse under cold water until chilled through; drain well.
2. Place peas, mint sugar, remaining salt, and pepper in blender or food processor; puree until very smooth. With motor running, add egg whites one at a time; pour in cream and blend until well combined.
3. Divide pea mixture among 6 greased 1/2 cup ramekins or custard cups line with parchment rounds.Place ramekins in baking pan; pour in enough boiling water to come halfway up sides of dishes. Cover with foil and using sharp knife, make vent holes at random intervals; bake in 350F oven for about 30 minutes or until tester inserted into enter of timbale comes out clean.
4. Let rest for 2 or 3 minutes; run knife around edge of each dish and turn timbales out onto warmed plates.
Remove parchment rounds.
5. Garnish with a prig of mint and a dollop of sour cream or crème fraíche.
Chicken Lyonnaise
1/3 cup flour
2 tablespoons chopped fresh thyme
1/2 teaspoon salt
1/2 teaspoon pepper
6 boneless chicken breasts
1 egg, beaten
3 tablespoon vegetable oil
2 small onions, thinly sliced
1 clove garlic, minced
1/3 cup white wine
1 cup chicken stock
2 teaspoons tomato paste
Pinch granulated sugar
Directions:
1. In sturdy plastic bag, shake together flour, 1 tablespoon of the thyme, salt and pepper. One at a time, dip chicken breasts into egg, and then shake in flour mixture.
2. In large deep skillet, heat 2 tablespoons vegetable oil over medium-high heat. Place chicken in pan, skin side down. Cook, turning once, for 10 minutes or until golden brown. Remove from skillet and place in 225-degree oven.
3. Reduce heat to medium, add remaining oil to skillet. Stir in onions, garlic and remaining thyme; cook, stirring often, for five minutes or until onions are translucent. Increase heat to medium-high and continue to cook onions, stirring often, for five minutes or until golden brown.
4. Add wine to pan; cook, stirring, to scrape up any brown bits, for about a minute or until reduced by half. Stir in stock, tomato paste and sugar. Boil for two minutes or until beginning to thicken.
5. Return chicken to pan, turning to coat, and cook for five minutes or until juices from chicken run clear.
Chateau Potatoes
6 medium potatoes
2 tablespoons unsalted butter
1 tablespoon vegetable oil
1 tablespoon finely chopped fresh rosemary leaves
1/2 teaspoon each salt and pepper
Directions:
1. Peel potatoes. Instead of cutting eight sided jewel shapes we cut the potatoes into thick, evenly shaped wedges.
2. Place butter, oil, and rosemary in large, rimmed baking dish.
3. Set pan in 425F oven for 2 to 3 minutes or until butter is sizzling.
4. Pat potatoes dry; place in heated pan and stir to coat with butter mixture.
5. Bake in 425F oven, stirring occasionally, for 35 to 40 minutes or until potatoes are golden brown.
6. Season with salt and pepper.
Punch Romaine
6 cups ice (crushed)
2 cups sparkling wine (champagne)
1 cup white wine
1/3 cup fresh orange juice
2 tbsps lemon juice
2 tbsps white rum (optional)
orange peel (slivered optional)
Simple Syrup:
1 cup sugar
1/2 cup water
Directions:
1. Simple Syrup: In a large saucepan, combine the sugar and water. Cook over medium heat, stirring gently until sugar is dissolved. Bring to a boil and cook 1 minute or until syrup is clear. Remove from the heat and cool.
2. Makes 1 cup of syrup can be stored in a sterilized container in the refrigerator for up to one month.
3. In a blender combine the crushed ice, 1 cup simple syrup, champagne, white wine, orange juice, and lemon juice. Blend until mixture is well combined.
4. Spoon the mixture into individual dessert cups. Drizzle with rum, if desired, and garnish with a sliver of orange peel. serve immediately.
Asparagus Salad with Champagne-Saffron Vinaigrette
1 1/2 lbs asparagus
1/4 teaspoon saffron threads
1 1/2 tablespoons champagne vinegar
1/2 teaspoon Dijon mustard
Pinch of granulated sugar
3 tablespoons extra virgin olive oil
Salt and Pepper to taste
1/2 sweet red or yellow pepper, finely diced
Directions:
1. Holding asparagus halfway up stalk, snap off woody ends at the natural breaking point and discard.
2. In a wide, deep skillet or large pot of boiling salted water, cook asparagus for 3 to 5 minutes or until they are tender but not limp.
3. Drain the asparagus and run under cold water until completely cooled; drain well.
4. Meanwhile, in a large bowl, stir saffron into 1 teaspoon of boiling water; let stand for 2 minutes or until the threads have softened.
5. Stir in champagne vinegar, mustard and sugar. Whisking, drizzle in olive oil.
6. Season with salt and pepper to taste. Add asparagus and diced pepper; toss to coat. Serve in individual dishes.
--
We made this on Saturday April 14, 2012. It was great fun, and the food was excellent.
Must give credit to this fine blog: http://www.thedragonskitchen.com/